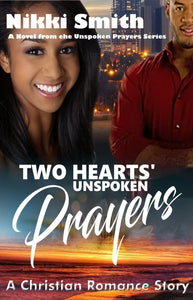 Firstman Books
Two Hearts' Unspoken Prayers
Janine hasn't always lived a life that's on the straight and narrow. Meaning, there was a time in her life when she was a lowly sinner and her relationship with Christ was the very last thing on her mind. But that all changes, and before long, Janine becomes a sista after God's own heart.
But just because she's beautiful, saved, and fabulous, that doesn't mean that all is perfect in paradise. Janine has a college degree, but no matter what she does, she can't seem to snag a decent job with it. She had a fiancée, but he cheated.
When she runs into a single father who's true to his walk with Christ, will God answer both their hearts' unspoken prayers and give them the soulmates they've both been yearning for?
Author: Nikki Smith
Format: Paperback
Copyright: 2022
Pages: 201
---
More from this collection