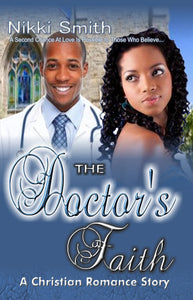 Firstman Books
The Doctor's Faith
Twenty-four year old Lynette 'Peaches' Carter is a beautiful, smart, and talented girl. However, a rough upbringing — one full of strife — makes it difficult for her to let her beautiful, God-given light shine.

When she comes face-to-face with the consequences of the fast-paced, out of control lifestyle that she's been living, she realizes that God is the only one who is able to pull her from the depths of despair. 

Through prayer and steadfast faith, she's able to turn her life completely around.

Those closest to her eventually forgive her for the transgressions of her past—all but one person that is....

The strikingly handsome and very saved Dr. Antoine White has known Lynette 'Peaches' Carter every since they were kids. Deep down inside, he knows Lynette is a decent person. However, will he be able to move beyond the mistakes she's made in the past? Will he be able to forgive and allow their slowly blossoming love to grow?
----
Author: Nikki Smith
Format: Paperback
Copyright: 2015
Pages: 176
---
More from this collection